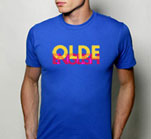 What the bitch? We at Olde English finally have our act together, and we're proving it by selling our first-ever line of t-shirts.
Our first shirt for sale is our 'Overlap' title design (below), featuring five different screen-printed colors on top of an amazingly soft, royal blue American Apparel t-shirt (available in all sizes).
What does that mean? It means: Super comfy, super pretty, super duper.
Buy now! We're only selling 24!
– OE
PS. Here's how it works: you place your order with us on our fundraising website, and as soon as we have 24 orders, we'll charge your credit card and your order will be shipped out.