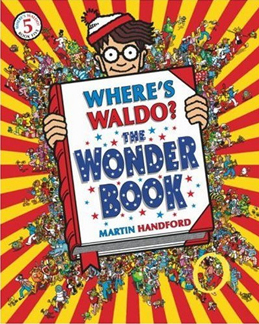 What's up, Gumshoes?
A little over three years ago, we started putting together a sketch detailing the behind-the-scenes rocky romance between Waldo of "Where's Waldo?" fame and Carmen Sandiego of "Where in the World is Carmen Sandiego?" fame. It seemed like a natural fit, and an easy way to skewer two popular phenomena that had both somehow escaped high-profile parody. We even had the sketch cast, with Joel playing Waldo and Suzanne playing Carmen. Unfortunately, the sketch got derailed by massive rewrites, and re-rewrites– I vaguely remember the phrase "masturbating in front of a mirror" sprinkled liberally through the script– and eventually the project drowned in a whirlpool of competing visions.
Why am I telling you all this? Well, since we stopped posting videos every weekday except Tuesday (Fuck Tuesday), a lot of our fans might be wondering what we've been up to. Have we all gone to a beach full of sea monsters and fat ladies and a guy with a shark fin hat in the water and towels and umbrellas that are patterned the exact same way as our sweaters? (And why are we wearing sweaters to the beach anyway?) Or have we hopped the first plane to the country whose primary exports are salt and lumber? (Check your almanacs!)
The real answer exists somewhere between the two. We've been juggling a number of projects, one of particularly large importance that we'll be able to announce sometime next week (here's a hint: you'll finally get that CGI-live action Boxer vs. Raptor you've all so clearly been pining for).
So, what have we been up to? We had a big show at the UCB Theatre in New York and another one up in Toronto. We had a great time at the Toronto Sketchfest, performing with local fan favorite Frenzy. Special thanks to Jordan of Accidental Company for letting us stay in his place and show us around the neighborhood.
In other news, Hana has parted ways with Olde English to pursue other interests. Hana has been a vital member of the group over the last three years and we wish her nothing but the best in all her future adventures. Fans of Suzanne, Jesse, Tavit, and Adam Janos know that with Olde English, goodbye is never forever, and we look forward to working with her again on many Olde English projects.
What's next for OE? We're throwing together a FREE show of our best material next Thursday at 5:30 at the UCB Theatre which Ben just wrote a blog post about while I was writing this post. So, go read his post.
Also, do you live in Georgia? Because Alan C. Pope High School in Marietta, GA is putting on the first ever all-live version of Olde English's Gorilla Warfare: A sketch comedy. The show is December 15th and 16th at 7:00 pm and in addition to featuring live adaptations of the video sketches from the Gorilla Warfare DVD, the show also includes four bonus gorilla sketches written by Olde English.
To close this post, I am including my all-time favorite picture of Hana, after the jump. Hana is a sweetheart, a ladybug, and a barrel of dynamite and I think the picture captures it all. The photo is hi-res and suitable for desktop backgrounds, if I may say so myself.


(Click here for full size)