We'll be performing live and premiering some brand-new videos, as well as sharing the stage with Cleanest River. And as if all that wasn't enough to entice you, the show is sponsored by a liquor company, so there will be (some) free shots after the show! Weird, right? I think so. Cool though.
Olde English at Rififi!
Saturday, April 7 @8pm
332 E. 11th St bet. 1st and 2nd Aves
All ages, tickets are $5
—————————————————————————————–
Since that's all I have to say about the show, I'm going to use the rest of this space to post something totally irrelevant.
Check out the below graphic–it's a fake TV schedule that The Onion printed the week after 9/11. Ballsy, right? I respect them a lot for publishing this. They were really the first to approach the attacks in a comedic fashion, and I think they successfully made something really funny without diminishing the seriousness of the situation.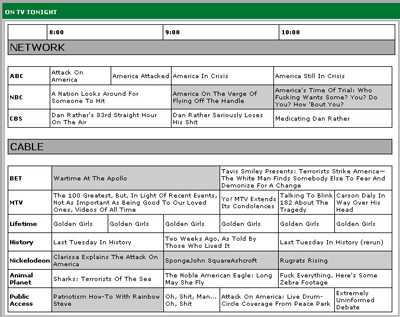 (Click for a larger version)