So, here's a story.
Olde English has a monthly show at the UCB Theatre in New York where we invite guests to share new material and we present new material of our own. (The show is called Very Fresh and tickets for the next one are on sale now.)
Last week, we premiered a video in which I do an impression of popular director Michel Gondry. I've never impersonated a celebrity for one of our videos before (none of us have), and I was particularly nervous about imitating a man whose work I respected so much. While watching his music videos and behind-the-scenes documentaries for inspiration, I kept thinking, wow, this video would be much better if he directed it himself.
The impression is pretty scattershot, but I think the jokes hold up (you can judge for yourself when the video's posted on SuperDeluxe), and besides, I reasoned, it's not like anyone who actually knows Michel Gondry will see this video.
And guess who was at our show. MICHEL GONDRY.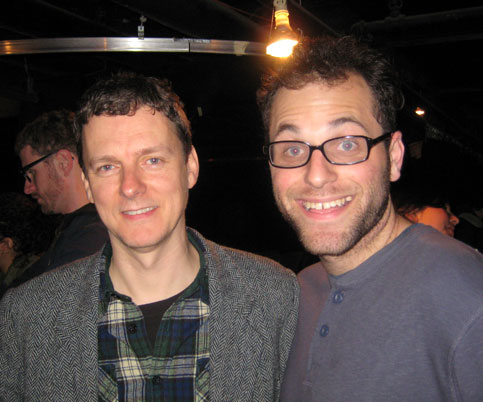 When we got to the theatre, the previous show was just letting out and their audience was leaving. I was talking to one of our guests in the dressing room, when Ben rushed in and said, "I just passed Michel Gondry on the stairs!" At first, I thought he was lying, because a) What are the odds?, and b) Ben is a big liar who lies about things all the time, just because. But Ben insisted I go out and see for myself.
I am pretty awful when it comes to getting starstruck. When we performed with the Upright Citizens Brigade a year a and a half ago, I spent about thirty minutes pacing nervously in the corner of the green room, refusing to look Amy Poehler in the eye. And I was literally shaking when I tapped Michel on the shoulder.
Raphael: Excuse me, are you Michel Gondry?
Michel: Yes.
Raphael: Okay, see, um, all right, first of all, hi. So, you're not going to believe this, but, uh, so, you're probably coming from, you just saw the last show, yeah?
Michel: Yes.
Raphael: How did you like… it doesn't matter. I'm a really big fan of yours, and this is crazy, I'm in the next show, and it's so weird that you're here. We actually made a video and it's all about you and we're showing it tonight for the first time in the show that's about to start in a little bit, so I don't know if you're… if you have somewhere to go, or… but we're about to show this video, and our show is only five dollars, so if you want to stick around, it would really mean a lot to me.
Michel: This show?
Raphael: Yes. The show starting at midnight. Which is now. So, yes.
Michel: Okay.
Raphael: All right, BYE.
And then I ran away.
The show was a lot of fun. We had a great audience and a lot of really fun guests; a highlight for me was Abe Jellinek, who filled in for Gabe and Jenny on no notice– we literally called him two hours before the show started– and killed.
After the show I found Gondry waiting for his friend who was in the bathroom. I asked if I could get a picture with him, and he was gracious enough to acquiesce, and he even helped Caleb figure out the flash on his new camera. I still can't get over the fact that the only time I've ever made fun of a celebrity in a video, the celebrity himself came to the premiere. So, what was Gondry's review of my performance?
"Eh, no hard feelings."