Sometimes people ask me questions. When they do, I answer them. But then a thought comes to me: "Well, that's all well and good for this man, but what of all those who have carried such questions silently within their hearts, yet are denied satisfaction?" Well, dear reader, suffer in silence no longer: I have come down from my cloud to lift you from confusion and doubt into the bosom of enlightenment.
Where's the new videos, hoss?
Glad you asked! We're going to be gearing up for another round of production soon. In the meantime, Super Deluxe still has a backlog of videos that have yet to be posted on their site, so expect to see those shortly. We'd prefer that they be published immediately, of course; but then, we'd also prefer that there be a new episode of The Office every day, and that's not gonna happen either. Rest assured, new videos are coming.
What's up with November's Very Fresh?
Unfortunately, it's canceled. (For those of you who have never seen this blog before, Very Fresh is our monthly show at the UCB Theatre.) Though I can't confirm the details as of yet, the word is that a certain prominent comedienne may or may not be hosting a certain show that may or may not be related to a certain writers' strike. All vagary aside, though, the fact of the matter is that our show was bumped to make way for Something Really Cool, so I encourage you to keep an eye on the UCB's schedule.
So when's the next time I can see you guys live?
That would be December 15th at midnight at the UCB Theatre. We'll be posting the guest list soon, but it's shaping up to be a great show. More details soon!
Hey, speaking of which, what do you guys think of the writers' strike?
We support it fully. And frankly, we can't stop talking about it. As young comedians who hope to soon be working in the television and film industries, it's nothing short of inspiring to see so many of the writers and performers we admire out on the picket lines. If you're not sure where you stand on the issue, I suggest watching this video by the writers and cast of The Office, or reading this opinion piece by the co-creator of Lost; both explain, in clear terms, how the studios are trying to avoiding paying the writers for their work. And considering that, in the future, we'd like to be paid for our work as well, we think the strike is a pretty good idea.
What's Olde English's favorite TV show?
Are you kidding? Kid Nation, for sure. Ignore everything you've heard about the show — it's inventive, challenging, and addictive. It's the show Nickelodeon has always wanted to make but never, ever could. It's also the only show that all of us watch every single week, and our Thursday-morning meetings now require half an hour of watercooler talk before we can get started. (Raphael, the biggest fan, loved the show so much that he created a mean-spirited message-board contest based on a recent episode.) Seriously, just watch the damn show already.
Oh hey, didn't I see you guys on TV?
You did! A month or two ago, Raphael and I were in a series of Comedy Central promos for the Helio Ocean line of phones. (Their tagline is "Don't call it a phone!", which is weird, because it's a phone.) They were only aired during a single episode of "Friday Night Standup", so if you saw them that means you are really good at not blinking. Overall, though, the experience was a ton of fun. Raphael and I were given free reign to develop the characters however we liked (our choices: "Spazzy Ken Swizzle" and "Mordo the Scientist"), and being in the center of a thirty-person shoot was an educational experience in itself. We think the spots came out quite well, but judge for yourself: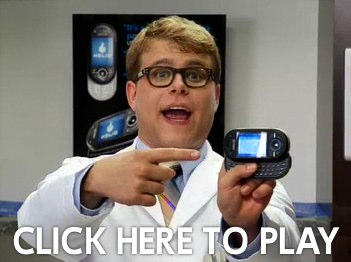 Here are the rest of the spots: 1, 2, 3, 4. (The first features fellow New York comedians Chris Principe and Sara Taylor, who were a blast to work with.)
That's all for now. Any questions?