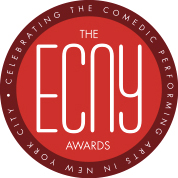 Our video Free NYC Rap was nominated for an ECNY Award for Best Comedic Short Film! We're honored — the ECNY Awards are the Oscars of the New York comedy scene, only if the Oscars were more like the Tonys and the Tonys were about comedy instead of fancy men wearing tights. Thanks to everyone who nominated us!
And with that — please vote for us! vote for us! Vote For Us! (The confirmation e-mail takes awhile to be sent, so don't worry if you don't get it immediately.)
While you're at it, check out the videos from our fellow nominees Gabe & Max, Dave Hill, Elephant Larry, and Julie and Jackie. They're all hilarious, so if you like one more than ours, send them a letter telling them you really liked it! And then Vote For Us!